All About Casters for Distribution
If your distribution center is typical, you have a caster problem. Or, to be more accurate, you have a commodity caster problem.
Here we describe the top shortcomings and consequences of commodity casters found on picker carts, platform trucks, tugger carts and other material handling systems in distribution centers, while also explaining how better casters help distribution centers reduce injuries, improve operations and lower costs.

Learn more from our distribution content hub below by accessing our FREE whitepaper, solutions brochure, videos and more.
Distribution Challenges and Pain Points
We understand the challenges and pain points of our distribution partners because of our decades of experiences partnering together.
The resources and links below are in place to help aid in combatting these challenges:
Worker Safety
Reducing workplace injuries, particularly physical overexertion, is also a priority for distribution centers. Physical overexertion remains the #1 cause of workplace injuries, according to the US National Safety Council, accounting for a whopping 25% of all workplace injuries. These injuries carry significant direct and indirect costs, saddling businesses in the US with $15.1 billion in direct losses annually.
Speed
Fulfilling purchase orders as quickly as possible, particularly for online purchases, is getting harder by the day. Package volumes are increasing, and distribution centers are expected to handle these increased volumes with the same number of staff.
Staffing
Recruiting, training and retaining staff is difficult as package volumes continue to climb. The major courier companies are also facing challenges recruiting sufficient drivers to meet increasing volumes, putting further pressure on the entire supply chain.
Profitability
Another perennial challenge for distribution centers is maintaining and/or expanding profit margins amidst pressures on operating efficiency and rising costs for materials and labor.
Expectations
Delivering the same customer experience amidst disruptions in supply chains is a major challenge. Customers who receive their packages later than expected quickly switch their loyalty (such as it is) to retailers who meet their delivery promises.
FREE DISTRIBUTION WHITEPAPER
When Push Comes to Shove: Discover how better casters help distribution centers reduce injuries, improve operations and lower costs.
Distribution centers are facing unprecedented challenges. SKUs are proliferating. Package volumes are climbing. Customers are demanding ever-shorter delivery times. And supply chains are being disturbed.
Discover how improving the casters in your facility maintains uptime, protects worker safety, lowers maintenance costs and plenty more.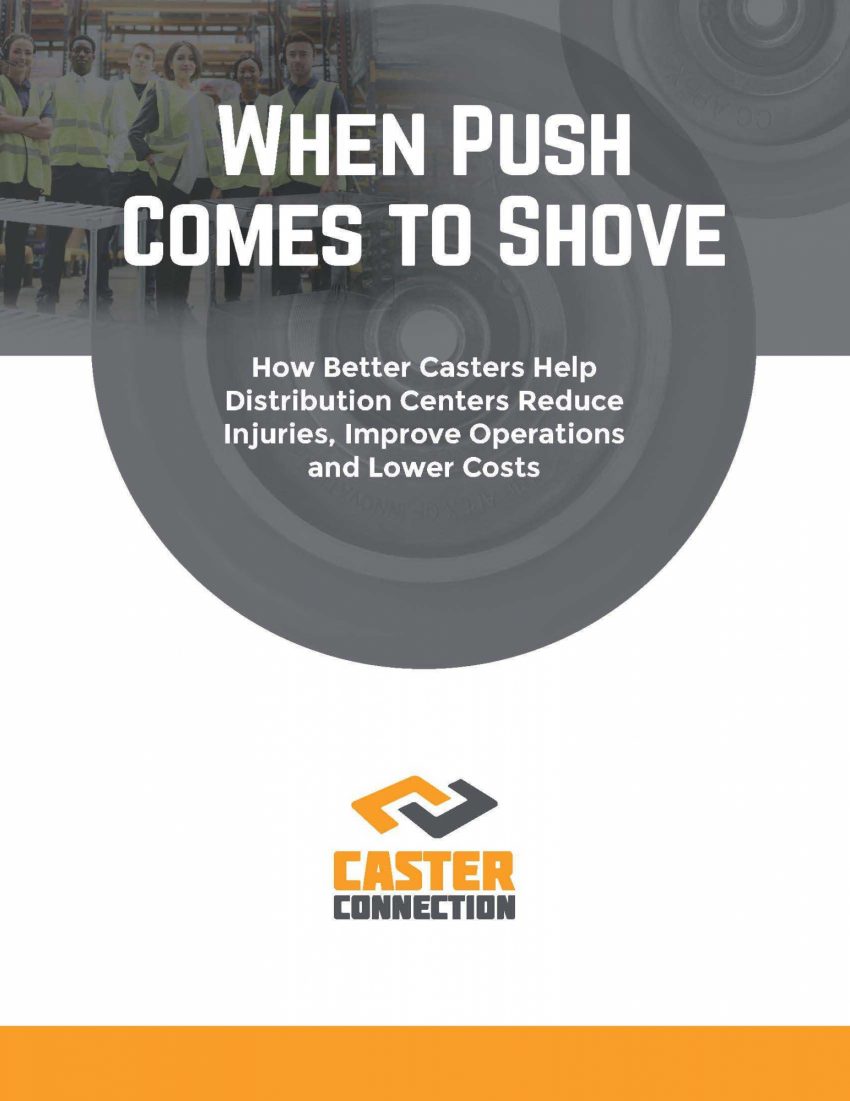 FREE WEBINAR
WHEN PUSH COMES TO SHOVE
Discover how better casters help distribution centers reduce injuries and improve operations
VIEW THE ON-DEMAND WEBINAR →