Selecting Casters in the Automotive Industry
If you're reading this, then you likely understand the great importance of casters' role in automotive manufacturing. The proper casters and wheels in your application can mean the difference between uptime and downtime, employee productivity and employee injury, or even maintenance prevention vs. costly maintenance.
Casters play a role in:
Push/pull force for manual maneuvering of carts
Performance in towline applications
Forklift-free initiatives
Maintenance and repair frequency
Decibel output
Floor protection
Read more below for in-depth information regarding the role casters play in each facet of automotive manufacturing.
THE IMPORTANCE OF CASTER COMPONENTS IN AUTOMOTIVE MANUFACTURING
WHEELS

The resiliency of the wheel is an important factor in determining how the wheel performs when rolling over physical barriers such as thresholds or debris.
Softer (lower durometer) wheels to some extent conform to the shape of the object(s) that they roll over, meaning debris and barriers do not typically cause damage to softer wheels.
Wheels that have the proper durometer and resiliency reject embedding of debris and flat-spotting. Embedding typically occurs in hard, non-resilient wheels and can cause floor damage, added rolling resistance, increase noise and vibration.
Harder wheels typically roll easier than soft wheels. When using hard wheels, one must consider the likelihood of the wheels encountering debris and the floor type.
WHEEL DIAMETER

The larger the diameter of a wheel, the lower the rolling resistance will be. While this is an important factor, it is frequently overlooked.
The more uneven or coarse a floor is, the larger the wheel's diameter should be. Rough floor conditions may include thresholds, debris, grates, etc.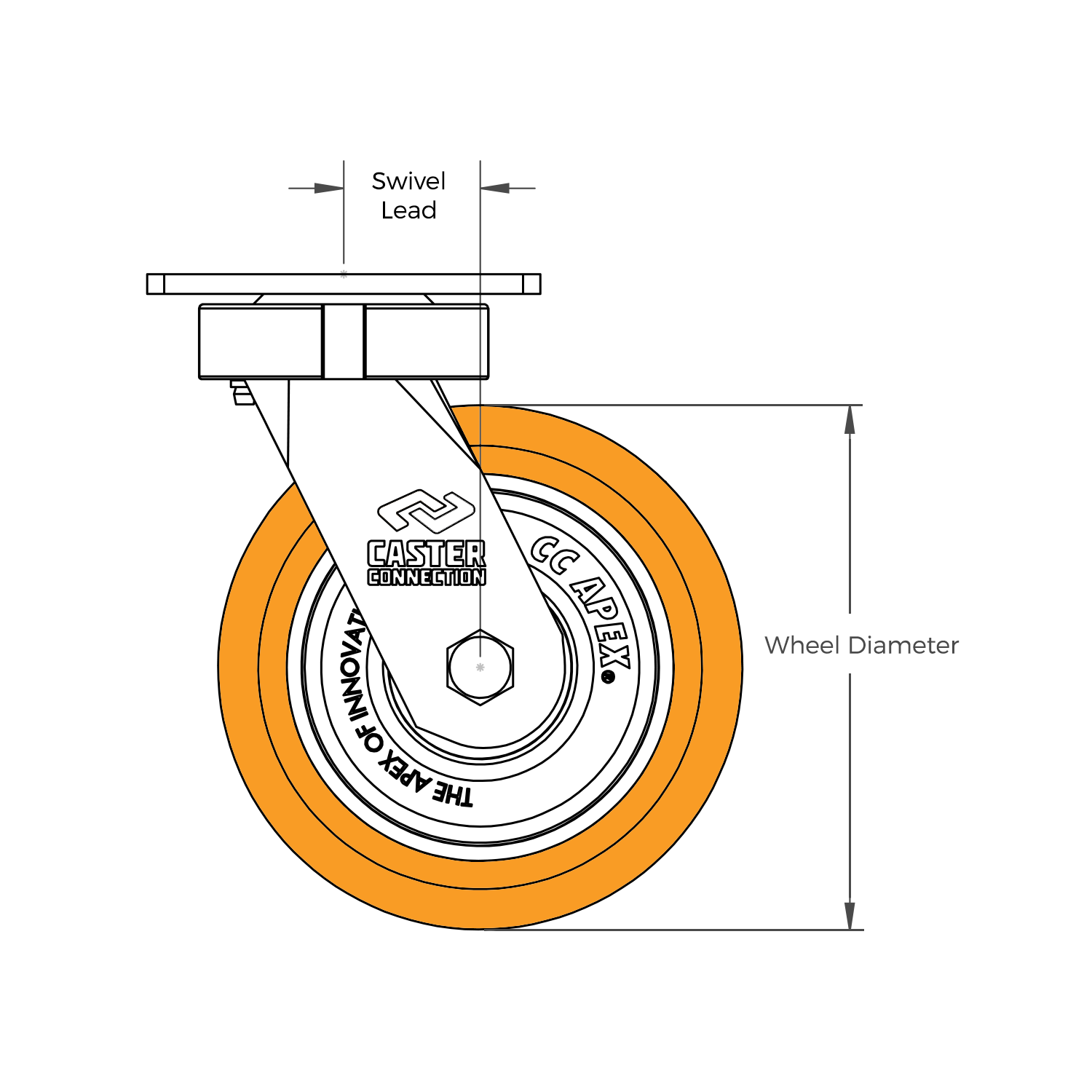 CASTER RIG TYPE

Ease of swivel and dispersion of load play a humongous role in caster rig ergonomics. The precision of a swivel caster rig's construction determines how easily a rig is able to swivel, which directly affects manual push/pull ergonomics.
The kingpinless swivel caster rig is the go-to swivel caster rig for towline use because it can handle heavy weight loads and offers great durability due to its lack of a kingpin. Without the kingpin, a caster is able to more evenly distribute weight and ease the pressure on the caster.
Casters with a kingpin often fail in towline applications because high velocity towing can wear down the kingpin and cause catastrophic failure.
SWIVEL LEAD

A commonly overlooked factor for caster configuration, swivel lead (the distance between the centerline of the kingpin and the centerline of the axle of a swivel caster) determines the ease with which a caster swivels.
With a standard swivel lead, an application will likely experience caster flutter. Caster flutter occurs when the caster wheel is not trailing far enough behind the raceway. To alleviate caster flutter, you can extend the lead with an extended-lead rig. An extended-lead rig enables the caster wheel to naturally trail, eliminating caster flutter, reducing noise and strain on the raceway – along with all the moving parts.
BEARINGS
Sealed precision ball bearings are ideal for towlines because they're maintenance free, have low decibel output, and are designed for higher speeds and frequent turns. For manually pushed carts, precision bearings are the preferred choice due to the ease of rollability, providing the best in ergonomic push-pull forces.
LOAD RATING

The maximum amount of weight a caster or wheel will hold. The maximum recommended load per caster or wheel based on intermittent operation over smooth floors at speeds not exceeding 3 m.p.h., with no shock loading or adverse environmental conditions.
CASTERS' ROLE IN ERGONOMIC PUSH/PULL PERFORMANCE
Casters play a tremendously large ergonomic role in automotive manufacturing environments where manually pushed and pulled carts are used. Implementing the proper caster solution for your manual push/pull application can help to prevent employee injuries that cause downtime and increased workers' compensation claim costs.
Some components of casters that affect ergonomic performance include:
Wheel Tread/Composition
Wheel Diameter
Bearing
Rig/Fork
Some awesome ergonomic solutions for automotive manufacturing include our CC Apex, CC Stark, CC Stout, CC Nylex, and CC Peak lines.

CASTERS' ROLE IN TOWLINE APPLICATIONS

Casters are of great importance for organizations that utilize towline applications in their automotive manufacturing plants. From our February 2013 blog post Improving Towline Efficiency:
Towlines require casters that will not slide laterally, can endure high speeds and can withstand the heat generated by high-speed towing.
CASTERS' ROLE IN FORKLIFT-FREE INITIATIVES
We explained casters' role in forklift-free initiatives in our October, 2017 post: Factors to Consider in Choosing Casters for Forklift-Free Initiatives
The forklift-free initiative underway at many manufacturing plants is intended to boost safety and production rate. Despite the United States having some of the most strict health and safety standards in the world, the country still sees over 20,000 people in the hospital every three days due to injuries caused by forklift accidents. In order to help your organization to reduce costs and increase efficiency, we detail factors to consider in choosing casters for forklift-free initiatives." –
When deciding to take on a fork-free initiative, an organization most commonly implements a tugger cart system and/or carts that are manually pushed and pulled – both of which operate on casters. In our November, 2017 post Forklift-free Initiative: Using Casters to Pull Towards Lean, we consider the ramifications of implementing an improper caster: A forklift-free system improves efficiencies of moving materials within the plant. Dollies need to bring active parts and kits to the assembly line. All these dollies are moving on industrial casters, making casters one of the most significant investments of material handling carts. Purchasing an incorrect caster for a dolly can lead to decreased business profits by:
Carts being taken out of circulation
Slowing down production
Increasing MRO (maintenance, repair and operating supply) expense
A caster's overall value is measured by its Total Cost of Ownership (TCO) rather than its initial cost. Casters with low total cost of ownership can prevent overspending, returns, or frequent repurchasing. Casters with high total cost of ownership may cause downtime maintenance and pricey rework.

Both the CC Apex and CC Peak are excellent examples of reaping amazing value beyond the initial cost. The CC Apex has proven to handle high load capacities, reject debris and maintain grip in a towline. The CC Peak offers industry-leading performance to towing applications. Unlike kingpin or kingpinless rigs, CC Peak's construction allows for even dispersion of load to reduce push-pull efforts by 25-50%. The CC Apex and CC Peak both have a low TCO with benefits of:
Less downtime
Fewer production interruptions
Maximizing production capacity
HOW CASTERS CAN AFFECT MAINTENANCE AND REPAIR FREQUENCY
To save time and money for our clients in the long run, Caster Connection places a large focus on Total Cost of Ownership(TCO) when providing solutions. From our January, 2016 blog post Cost Deployment Modeling for Casters:
Initial Cost vs. Total Cost of Ownership When a company is choosing casters for their application, Total Cost of Ownership must be taken into consideration. High-quality products perform better and last longer, and can be defined by their opportunity costs, demonstrated by less downtime, fewer production interruptions, and maximized production capacity to increase profits.
Caster Connection Director of Business Development Eric Hassen expounds upon this point in a May, 2017 interview:
Can you talk about Cost Deployment and how it can relate to casters? EH: The main objective of cost deployment in regards to material handling, and specifically casters, is to identify problems that increase costs, so the issues can be resolved quickly and effectively while maintaining a balance of quality. Increasing costs from a poor caster can materialize as downtime of the dolly (i.e. tens of thousands of dollars per minute), cost of repair (i.e. caster replacement cost) and labor cost. When choosing the correct caster for each application, our goal is to minimize these costs. Caster Connection provides the expertise needed to make an educated decision and consults each client per application to provide the solution necessary in order to capitalize and maximize the WCM pillars of Cost Deployment and Total Cost of Ownership." Downtime Cost = # of people waiting * Downtime * Man hour cost Cost of mechanic repair = # of people repairing * Repair time * Man hour cost Cost of rework = # of people reworking * Rework time * Man hour cost
HOW CASTERS CAN AFFECT DECIBEL LEVEL OUTPUT IN MANUFACTURING
Noise is a big factor in any manufacturing environment, and for good reason. High noise levels can damage employee hearing, and lead to other injuries as a result of "noise pollution". As a result, many automotive manufacturers have decibel level thresholds to prevent employee injuries and other accidents. Selecting the proper caster for an environment and application are of great importance. These caster components can cause or prevent decibel level output in casters:
Swivel Rig/Fork Raceway

An imprecise caster rig raceway can vibrate and rattle during movement, causing unpleasant levels of noise output. To avoid this issue, it is recommended that organizations implement a high-quality solution such as Caster Connection's CC Peak Maintenance-Free Swivel Rig.
Another factor can be "play" between the cart and caster top plate. One solution for this issue is to implement the use of a rubber dampening pad, which Caster Connection has had success in implementing in automotive facilities.

Wheel Tread
From our November 2016 blog post How to Quiet Caster Noise:
To quickly find out the cause of caster wheel noise disturbances, zero-in on the caster wheel material and floor surfaces. For example, a hard steel caster wheel can hold a lot of weight, but it cannot absorb and distribute impact well, leading to high noise output when rolling. In addition, hard tread wheels can also damage fragile flooring by wearing grooves into it, or by picking up debris that is then pressed into the flooring. Opting for a smooth, soft tread caster wheel for a hard and/or rough floor has its advantages. Not only will a soft tread caster wheel be useful for noise suppression, but the transported cargo on the cart also will not be affected by caster noise that creates vibrations. Unsurprisingly, a soft tread wheel rolls best on debris-free flooring, as rough and/or messer flooring can hinder mobility. In summary, softer tread caster wheels have a lower decibel output than harder tread caster wheels do.

RECOMMENDATION FOR NOISE REDUCTION: CC APEX

CC Apex wheels feature a high-quality polyurethane tread that stores and exudes energy to help boost ergonomic performance and reduce noise-causing vibrations of carts and equipment, offering a smooth and quiet ride that makes it ideal for manufacturing, medical, hospitality, and other environments.
CHOOSING THE RIGHT CASTER FOR FLOOR PROTECTION
Wheel material, and wheel durometer (level of hardness) must be considered when choosing a caster that will protect flooring: From our Caster Ergonomics & Maintenance Tips page: Wheels that have the proper durometer and resiliency reject embedding of debris and flat-spotting. Embedding typically occurs in hard, non-resilient wheels and can cause floor damage, added rolling resistance, increase noise and vibration.
Automotive plants operate some of the most rigorous applications in the material handling world. Many of these applications run non-stop, meaning there isn't time for repair to casters, flooring, or equipment. This requirement makes it extremely important to understand the application and environment so that the correct casters are implemented into the field. The CC Apex's durometer (level of hardness) and resiliency are made specifically for environments where debris is present, meaning weld slag, metal chips, and other debris doesn't stand a chance. Because of its perfect polyurethane formulation, the CC Apex does not pick up debris – unlike the black rubber wheel shown above – saving your flooring, and saving you from downtime.
RECOMMENDED CASTER SOLUTIONS FOR AUTOMOTIVE MANUFACTURING

CC Apex
CC Apex's polyurethane on aluminum ergonomic wheel design yields optimal performance and offers effortless navigation where precise movements are necessary. Available in 2" wide and 1-1/4" wide, CC Apex was designed to be strong and durable, improve pushing/pulling ergonomics, reject debris, perform quietly and cleanly, and reduce the need for maintenance. Visit ccApex.com for more information.
CC Stout
The CC Stout offers the same excellent high mobility and ergonomics as the CC Apex wheel, while capably carrying heavier weight loads. The alternative CC Stout HD series features a thicker polyurethane tread and thicker iron core for carrying even heavier weight loads. Visit ccStout.com for more information.

CC Stark

The CC Stark wheel is composed of high-quality reaction injected polyurethane (92 Shore A durometer) bonded to an aluminum core. Providing low rolling resistance, low noise, and extremely high load capacity compared to other 8" x 2" poly wheels, the CC Stark is the perfect solution for end users who need to move heavy weight at high speeds, and who want to reduce their maintenance and repair costs. Visit ccStark.com for more information.

CC Alpha
The CC Alpha rig/fork is Caster Connection's 2" wide kingpinless swivel offering. It is the best choice for towline applications, manual push/ pull conveyor applications, drag lines, maintenance carts, utility carts, dollies, racks, retail fixtures, and more.
CC Peak
The CC Peak maintenance-free swivel caster rig sets the gold standard for caster rigs/forks. Unlike kingpin or kingpinless rigs, this 2" wide maintenance-free swivel caster rig's construction allows for even dispersion of load, which has an incredibly dramatic effect in reducing push/pull compared to other caster rigs. Visit ccPeak.com for more information.