Vintage Casters: What They Are & Why You'll Love Them
Courtesy of GSW Construction.
These antique-looking wheels, which happen to be CC Vintage casters, match the rustic, industrial look of the headboard and footboard. Although the casters match the overall look of this particular piece of furniture, they function on a much higher level than is common for an antique caster. Now, you may want casters that are barely able to support your piece of furniture and that scratch your floors anytime you move your furniture. But for those who want a beautiful antique design that still maintains awesome functionality, we have the casters for you.
RELATED BLOG POSTS:
Vintage Casters for Furniture Mobility
The wheels on vintage casters of yesteryear weren't necessarily made to support the weight of our new-age furniture nor to be able to move the furniture with such ease. Because of this, retro caster wheels don't always function well. They normally function like anything antique would.
To solve this issue, we've taken new industrial casters and designed them to look vintage, making what can often be non-functional casters into a beautiful and functional add-on to any piece of furniture. Vintage industrial casters offer you a number of benefits, including:
Sturdy support for your furniture and other projects.
The ability to easily move your piece of furniture when you need to rearrange it or clean around it.
The option to transport heavier furniture without taking it apart or having to call over your buddies to help you move it.
Vintage Casters for Floor & Furniture Protection
With the resurgence of vintage, mid-century modern, and other antique-type designs comes the popularity of real wood flooring. Many home builders are choosing to rip up carpet and linoleum to uncover what's underneath, and much of the time, it's the original wood floors. Anyone who has any experience around wood flooring knows that it can be susceptible to scratching and scuffs.
Tile and marble floors are also common flooring types that complement rustic furniture. These floors can be damaged if the wrong type of material is dragged across them.
Installing CC Vintage casters (particularly polyurethane over cast iron) on furniture will protect your beautiful floors. That is the major benefit of using the CC Vintage line. You get the best of both worlds, beautiful antique style with modern performance.
Where Can I Find Vintage Casters?
Caster Connection now offers a variety of vintage casters for sale through our website. We offer two different versions: cast iron and cast iron with a polyurethane wheel tread. Cast iron is a more traditional vintage caster, while the polyurethane wheel is non-marking and floor-protecting.
Cast Iron Vintage Caster
Polyurethane Over Cast Iron Vintage Caster
Interested? Shop CC Vintage Casters Here.
Vintage Caster Brake Options
You've decided to get vintage casters, but you also want brakes. No problem! You have the option to get brakes on one or all of your casters. The standard brake type for CC Vintage casters is a side-lock brake. If you're not a pro on caster brakes, no problem. Take a look at this video and article on brake types.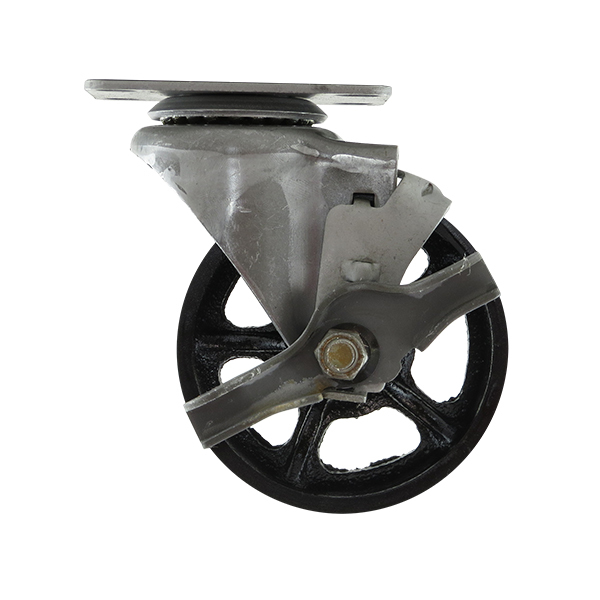 Show Off Your Furniture and Other Projects!
No matter what type of CC Vintage casters you've purchased, we know that they've gone on something noteworthy. Whether you've gone industrial, antique, steam-punk, modern, or funky-retro, we want to see your designs! Share your vintage caster looks with us on Pinterest, Twitter, Instagram, and Facebook with #CasterConnection.
Check out our video tutorials for help with: