Navigating Caster Education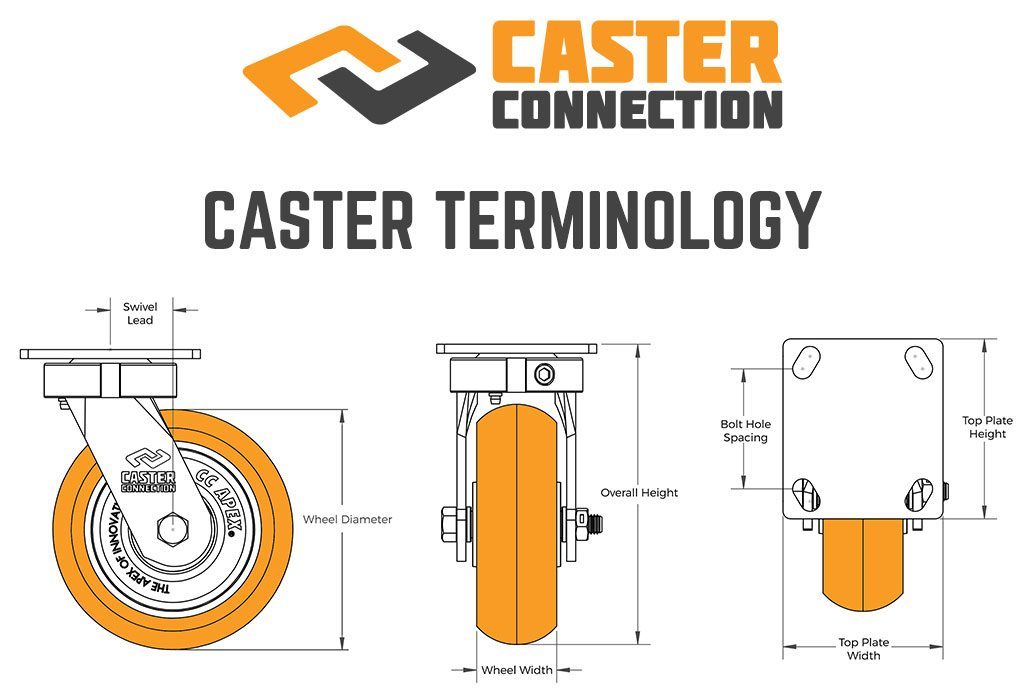 The Glossary of Caster and Wheel terms is exactly that. It's an alphabetical list of terms used in the material handling industry. We've also added pictures and videos to help make sense of it all. After looking at this page you should be able to tell the difference between a caster for mobility, and a magical one.
In this section Caster Connection has provided blown up drawings of a standard kingpin caster, a kingpinless caster and a light duty stem caster with every part labeled. This is a good section to if you need to know the smaller parts of the caster and what they're called.
The "Types of Casters" page we wanted to focus on supplying information about the different types of casters that exist in the world. This section deals with different brands of casters that we distribute as well as our own Caster Connection brands. We also added links to useful resources about selecting the right type of caster in relation to application and environment.
There are so many different caster wheel types and it can be overwhelming even if you're familiar with casters. This page deals with the different types of wheels found across all brands of the caster industry. Detailed information like temperature ratings, weight capacities and durometers can be found there.
Caster Mounting Types is just that. On this page, we laid out different types of top plates and measurements. There is also information on different types of stems mounts for casters.
From light duty to heavy duty we go over all of the different types of rigs we carry at Caster Connection. Our caster guru and President Joe Lyden explains the different rig types and what applications/environments they pair go with.
On this page Caster Connection Solutions Manager Morgan Hughes explains all the different types of stem casters and where you might find them. If you need to replace your office chair casters, this is a great place to start!
There are several different types of caster bearings for different applications, environments and industries. With in depth descriptions and thoughtful videos, we provide all the information you need to choose the correct bearings for your casters.
In this advanced section, we show how upgrading your casters and wheels can actually save money in the long run! Caster Connection presents to you what products are needed in order to be safe and achieve superior cost of ownership in your shop.
This is where we keep all the videos on our website. We also have them all on our YouTube page!
Finally, did we not cover something you were looking for? Don't hesitate to contact us. We have the answers!