Caster Central-Locking Brakes Overview
When it comes to brakes, you have a ton of options that will match your exact needs. One option you have is a central-locking brake, which allows you to secure all wheels with one brake pedal.
We provide our clients the ability to easily design and order their own central-locking brake system. We construct all of the pieces you will need after you've supplied us with one or two measurements. In this way, you can get exactly what you need quickly and effortlessly.
HOW IT WORKS
The central-locking brake system is fairly straightforward. When our clients have multiple swivel casters and need to securely stop these swivel casters with a total lock brake, they have the option to use 2 to 4 individual brake pedals or to use one lever that controls all of these brakes at once.

Central locking systems have the advantage of using one brake lever to lock two or more casters of the application, at the same time.
In this video, a hex rod with a pedal connects to a switch cam operated swivel head of the swivel casters. As the lever engages, the rod activates the brake pads to lock the central locking casters into place.
Central locking casters are total locking casters that locks the wheel and swivel head in place.
WHY YOU MIGHT NEED A CENTRAL-LOCKING BRAKE SYSTEM
Because you control multiple brakes with one pedal, you gain several advantages.
First, the pedal is always in one place. This means that you don't have to maneuver your carts to try and find the brake pedal, which may swivel around with your caster. All brakes are always accessible and easily engaged with one pedal.
Second, you have total lock brakes on all casters, so you have a much more stable cart. Whether you're a tier 1 auto manufacturer that needs an immobile cart during transport or a Broadway play set that needs highly mobile carts in between scenes but immobile carts during each scene, central-locking systems provide you with this versatility.
All of these advantages provide you with major savings in time, productivity, and therefore revenue. Not to mention, these brakes makes life easier and much less tedious in that you have to press one lever rather than 4.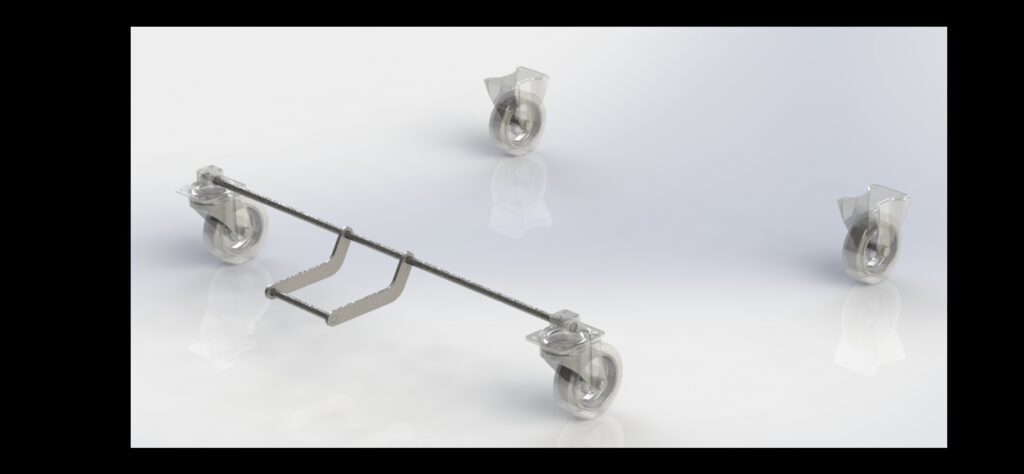 WHAT YOU NEED TO SUPPLY US TO IMPLEMENT THE CENTRAL-LOCK BRAKE SYSTEM
In order to create your own custom brake, simply provide us with the measurement of your cart from center of your left and right wheel as you can see below.
WHAT WE SUPPLY FOR YOU
When you have supplied us with your measurement, we will send you the casters and central-locking pedal with your exact measurements. The installation is straightforward, and we are always available for any assistance you might need.