8 Different Ways The CC Apex Can Help You
1. LESS PRODUCTION DOWNTIME
The polyurethane tread of the CC Apex has a unique mix of resiliency and durability. Also, the sturdy-yet-lightweight aluminum core won't bog down movement.
2. FEWER EMPLOYEE INJURIES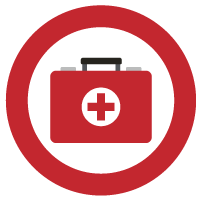 CC Apex can help decrease overexertion work-injuries. CC Apex's donut tread minimizes the surface area in contact with the floor. Consequently, reducing the friction coefficient. Decreasing the initial force required to push/pull a material-handling cart.
3. LOWER TOTAL COST OF OWNERSHIP
Notably, the CC Apex has a low total cost of ownership (TCO). CC Apex is a high-quality product that performs better and lasts longer. Material handling products with low TCO yield:

Less downtime
Fewer production interruptions
Maximized production capacity
4. EFFORTLESSLY DISPELS DEBRIS
The CC Apex's polyurethane tread has the propensity to spring back to its original shape. For this reason, the CC Apex does not flat spot and saves floors by spitting out debris such as nails and weld slag.
5. HANDLES HIGH WEIGHT LOADS
The CC Apex's high-quality polyurethane tread stores and exudes energy. When the CC Apex is sitting under load, it wants to move. As you're pushing a cart with the CC Apex, the CC Apex releases energy stored in its tread to reduce push/pull efforts.
6. OPERATES SMOOTHLY & QUIETLY
The CC Apex's polyurethane tread is soft enough to absorb noise-causing vibration. When rolling, the CC Apex moves smoothly. While in motion, the CC Apex is also hard enough not to squeak - supporting a quiet work environment.
7. ERGONOMIC
The CC Apex's ergonomic design minimizes push/pull efforts and reduces work-related injuries. As a result, you won't find a caster wheel offering the same ergonomic benefits as the CC Apex.
8. PROTECTS FLOORS & REDUCES NEED FOR FLOOR MAINTENANCE
Floor resurfacing can lead to expensive downtime. Soft caster wheels can attract debris and metal shavings. Over time, debris and/or metal shavings can harden the caster wheel into a hard wheel that damages floors. As mentioned earlier, the CC Apex's polyurethane tread is capable of dispelling debris.
To learn more about what the CC Apex can help you do, contact us today.
RELATED POSTS