7 Wood Pallet Furniture Ideas For DIY
1. WOOD PALLET COFFEE TABLE
Photo by Emma Lewis
A wood pallet coffee table is an easy go-to for a starter DIY project. All you have to do is pick out a pallet that is in decent condition, then give the pallet a good cleaning and, then apply any finish you desire. If you like, you can install casters to the pallet to make it a mobile coffee table.
2. BACK PORCH PALLET STACK
Photo by Evamix
Entertaining guests on the patio may require a stable surface to serve guests refreshments. As shown above, the two pallets are painted white and stacked on top of one another to raise the height of the table. Adding a sheet of glass as the tabletop ensures that nothing slips through the cracks.
3. DARKWOOD PALLET BAR
Photo by High Res Media LLC
The dark-stained wood pallet style can be seen carried over from the coffee table to the bar. The dark pallets create a nice contrast from the pops of red that are used throughout the room.
4. WOOD PALLET HEADBOARD AND BED FRAME COMBO
Photo by Immo Photo
Other than vanity, headboards can help keep beds from scooting away from the wall, and can also act as a backrest when a person is sitting upright on the bed.
5. STRETCHED-OUT PALLET BED FRAME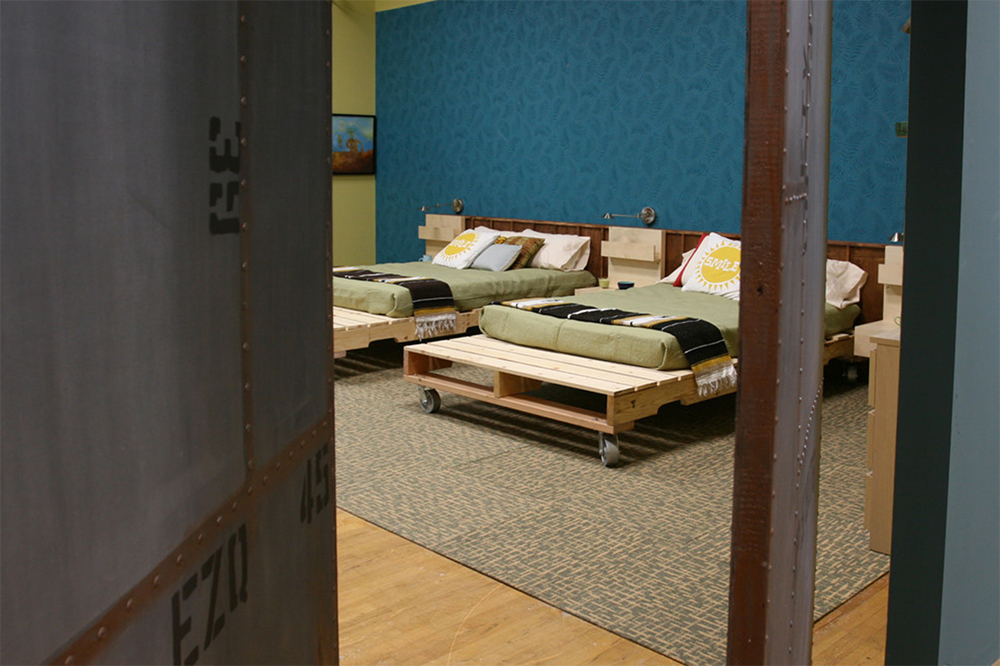 Photo by Jen Chu
The two pallet bed frames shown above leave ample space at the foot of the bed, and can be useful as a bench.
6. WOOD PALLET DRAFTING TABLE
Photo by Lorelei Company
So far, we've seen wood pallets commonly re-used as coffee tables. This wood pallet is elevated and has been re-worked into a drafting table. It makes for a good working space to draw up a concept from pencil to paper.
7. TWIN PALLET BEDS, HIGH AND LOW
Photo by Shea Homes Arizona
Two makeshift pallet bed frames make for a supportive and interesting piece. As you can see, the beds are setu p to fit your mood to play on different levels.
CONCLUSION
Use discretion when starting a project that involves "free" wood pallets. Not all wood pallets are made equal. It is important to learn if the pallets were chemically treated, and if it is done with the type of wood that makes it easy to reclaim. If you find yourself admiring the appeal of wood pallets but may be apprehensive about the safety hazards and want to eliminate the hassle of finding a pallet in decent condition, you ought to consider opting for new wood pallets from Uline.