CC Apex Wheels: Dispelling Debris, Increasing Ergonomic Performance
Manufacturing seats for the automotive industry creates an environment that can be very hostile to most caster wheels - an environment in which a great amount of debris (such as metal shavings and screws) is dispersed throughout the factory floor, ergonomic issues arise due to heavy push/pull requirements and flat-spotting of wheels may occur due to long periods of cart inactivity. In many cases, one or two of these issues may be solved with a single type of caster wheel, however very few caster wheels offer a solution for all three issues.
Debris can wreak havoc on the caster wheels used for the carts involved in the manufacturing process because often the wheel being used has too high of a durometer (hardness) to dispel the debris, which can cause chunking of the wheel. Ergonomic issues are presented when a cart is too difficult to push or pull, often times because the wheel is too soft (too low of a durometer) - typically the higher the durometer of the wheel, the easier the cart rolls. The same goes for flat-spotting: long periods of inactivity for soft wheels under heavy loads regularly lead to flat-spotting of the wheels.
…One or two of these issues may be solved with a single type of caster wheel, however very few caster wheels offer a solution for all three issues.
Before speaking with a Caster Connection Regional Solutions Manager (RSM) and Manager of Solutions Engineering, at Caster Connection, a manufacturer of seats for one of the largest automotive companies in the world was using 6 x 2 Polyurethane on Polyolefin and 6 x 2 Polyurethane on Steel swivel and rigid casters. The client desired a longer lasting product that required less maintenance and increased ergonomic performance. In August of 2010, the RSM and Manager of Solutions Engineering introduced the client to a solution to address their mobility performance needs: Caster Connection's CC Apex line of casters and wheels.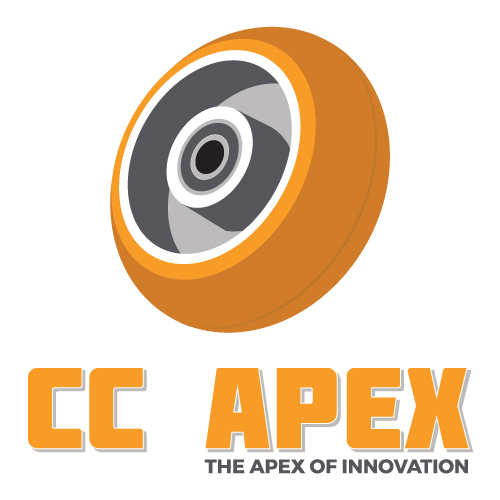 Caster Connection's 6" CC Apex casters decreased maintenance downtime, eliminated flat-spotting and debris retention, showed significantly less wear and tear than our previous product and reduced ergonomic issues by decreasing push/pull effort to move our carts. Because the CC Apex is the most durable caster that we have ever used, we have standardized all of our racks to be used with CC Apex casters," says an engineer for the automobile seat manufacturer.


The CC Apex line was the perfect solution for the client's manufacturing application and environment because it was able to solve all of the client's issues with their previous casters: debris retention, ergonomic difficulties and flat-spotting. Because of Caster Connection's knowledge and experience in similar manufacturing applications, the CC Apex was introduced with confidence to the client– and two years later all of their applications run on the CC Apex.