The CC Apex Wheel: A Solution For The Forklift Free Initiative
ELIMINATING THE DANGERS OF FORKLIFTS WITH THE CC APEX
Forklifts have long been a popular method of moving heavy and valuable equipment through warehouses and to loading docks. But forklifts are notoriously dangerous and unwieldy, risking injuries and fatalities to workers, damaging equipment, and requiring money and time for maintenance. Year after year, automobile and heavy equipment manufacturers have to pay thousands in compensation for employees injured on the job due to unsafe equipment and conditions.
One alternative for moving material is the Automated Guided Vehicle (AGV). AGV's are expensive and require out-of-house maintenance teams to update and repair them, all while the risk of injury to workers is still present.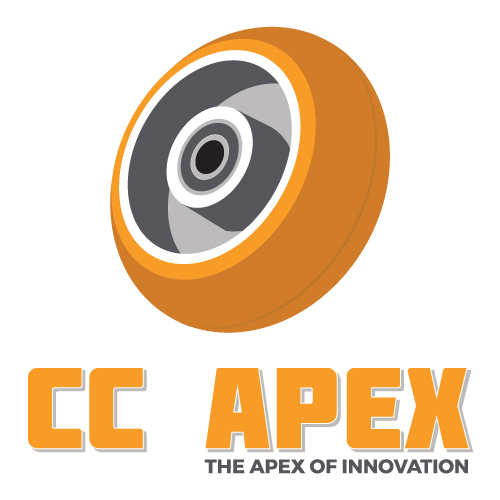 The common dangers of forklifts and AGV's lie in their poor maneuverability. Such large machines simply cannot maneuver well around workers, assembly lines, and inventory. Manual carts are ideal for these environments, but poor-quality wheels and casters can cause cart failure and injuries to workers. The CC Apex line of wheels by Caster Connection makes these problems non-existent in manually towed carts and towline applications.
The reliability of the CC Apex means that you will experience no need for maintenance, no wheel failure, no worries. The CC Apex is designed to move at high speeds and handle heavy weight loads. Our specialized casters provide maximum mobility, quick and easy turning, and massive reduction of push/pull forces.
When combined with braking systems, carts equipped with the CC Apex will be able to handle the workload of a forklift but with added mobility and safety. On top of that, the long lasting CC Apex and casters cost much less than forklifts and AGV's and require infrequent replacements and no maintenance.
Our CC Apex has been proven effective in various industries, and because of this countless workers are happier, workers are safer, productivity is up, and injuries are down.
Give the CC Apex a try today and feel confident in a product that will succeed in your applications. Contact us today for more information!